Skip to Content
Hardwood Floor Refinishing in Campbell & Los Gatos, CA
Make Your Old Hardwood Floors Look Brand-New Again
We've all probably heard the familiar expression "if these walls could talk," but what about your floors? Day in, day out, your floors are faced with varying amounts of foot traffic, which can make them appear tired and worn-out well before their time. Hardwood floor refinishing can help make your old hardwood floors look beautiful and brand-new again.
However, hardwood floor refinishing is sadly becoming a lost art. It's getting increasingly difficult to find experienced tradesmen you can trust to restore your home or business' hardwood floors. If you're looking for hardwood floor refinishing experts in the San Jose, Los Gatos, and surrounding South Bay area, Van Briggle Floors has a well-trained refinishing crew. Rely on our time-tested techniques and years of honed expertise to transform your hardwood floors today!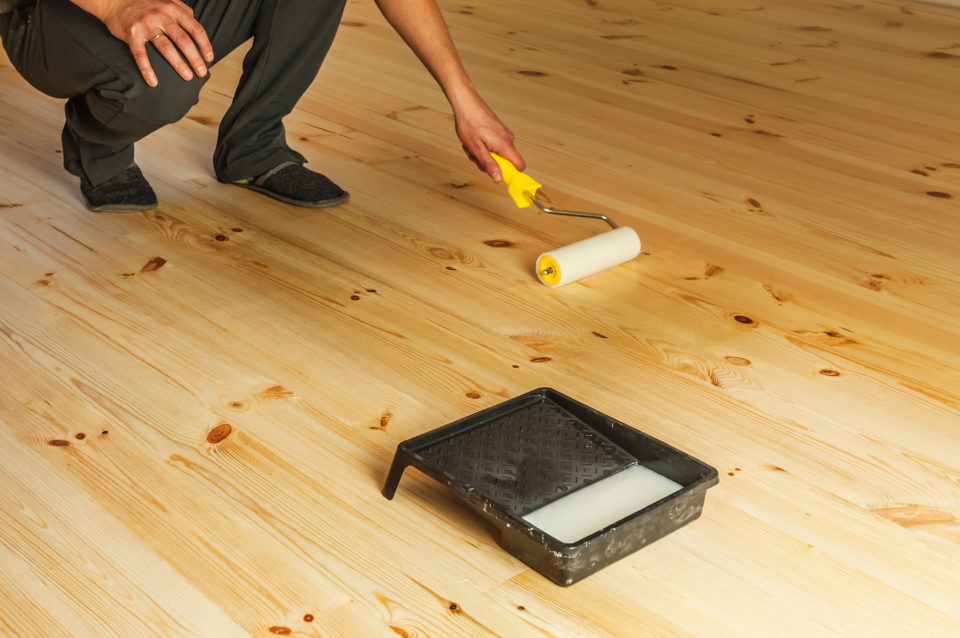 Van Briggle Installs, Sands, & Refinishes Hardwood Floors
Van Briggle Floors is a family-run flooring business with over 100 years of combined industry experience to bring our customers the best in hardwood floor refinishing. From product selection to delivery, job site preparation to flooring installation, and post-care maintenance, including repairs or refinishing, we offer end-to-end services to make us the only business you'll ever need to contact regarding your hardwood floors. Rely on Van Briggle Floors for all of the following services in Campbell, Los Gatos, and the surrounding South Bay Area:
Install, Sand, & Refinish New Hardwood Floors
Sand & Refinish Existing Hardwood Floors
Staining & Custom Colors
Water Dye
Lye Leaching
Bleaching
Select Your Hardwood Floor Finish from Van Briggle Floors
The type of finish you use on your hardwood floors will define the look and feel of the room for many years to come. A polyurethane or varnish can help make your hardwood floors look glossy. An oil-based finish usually has a stronger odor and longer drying time between coats than a water-based finish. From oil-based to water-based options suitable for all species of wood, Van Briggle Floors has many attractive finishes available for your hardwood floors, including:
Bona® GREENGUARD-Certified Water Base
Oil-Modified Polyurethane
WOCA Penetrating Oil
Rubio Monocoat
Tung Oil Varnish
Hand-Rubbed Glaze & Wax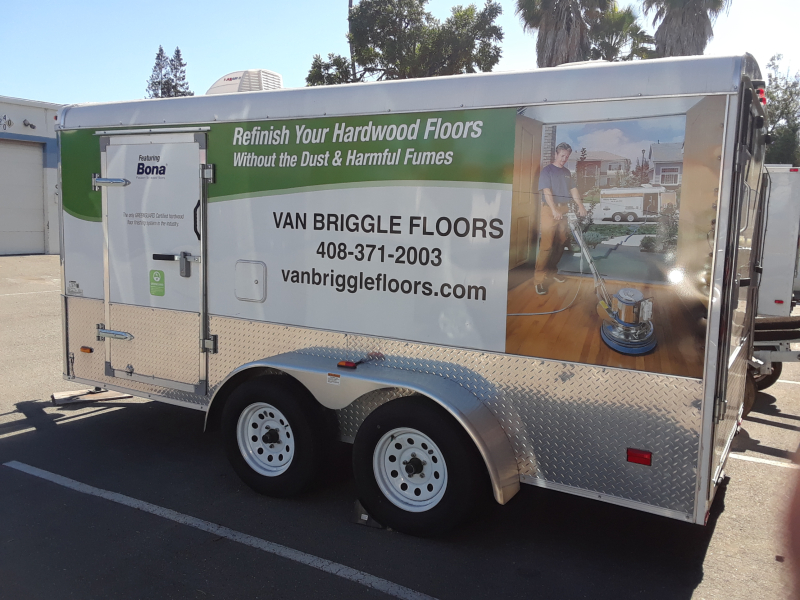 Bona® Certified Craftsman leveraging Bona® Atomic Dust Containment System
Van Briggle Floors with a handpicked Bona®-Certified Craftsman, leverages Bona® Atomic Dust Containment System for our Sand & Refinish jobs. The Bona® system is the only GREENGUARD Indoor Air Quality Certified hardwood floor systems available in the industry today. The Bona® system allows us to dispose 99% of airborne dust particles caused by sanding. This powerful vacuum system uses a 29-horsepower trailer-mounted engine with a huge capacity and may be available for your hardwood sanding and refinishing needs in Campbell, Los Gatos, and the surrounding South Bay areas.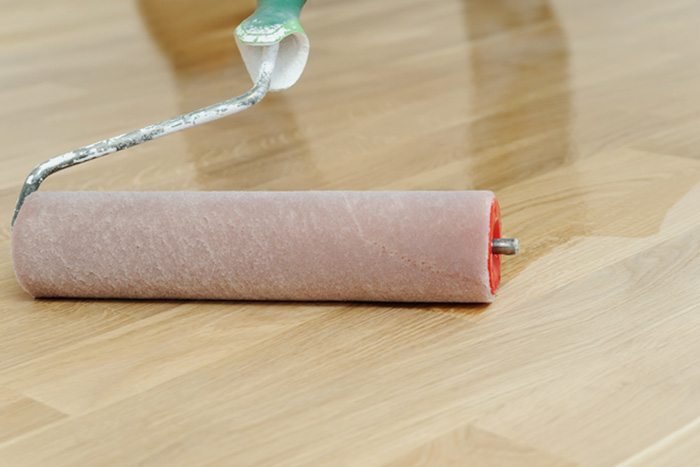 Benefits of Van Briggle Floors' Hardwood Floor Refinishing
There's no doubt in most homeowners' minds regarding the many advantages of installing hardwood flooring. Hardwood floors are durable, easy to maintain, pleasing to the eye, and help add value to your home. However, over time, hardwood flooring often takes a beating with scratches, scuff marks, and dents, especially if you have children or pets present in your home. Luckily for you, Van Briggle Floors offers hardwood floor refinishing services to help breathe new life into your old hardwood floors. Benefits of hardwood floor refinishing include:
New-Looking Floors at a lower Cost – Our professional hardwood refinishing services are more affordable than new Sanded & Refinished flooring installation costs. Get the look and feel of brand-new floors without breaking the bank!
Safety First – Damaged hardwood floors are a safety hazard if they contain splinters or nails. However, refinishing them addresses safety concerns long before they become a problem.
Add Value to Your Home – Nobody enjoys hardwood flooring that's become a bit of an eyesore. Whether you're thinking about listing your home for sale soon or you're tired of disapproving looks from visitors to your home, maybe it's time you considered refinishing your floors. First impressions from prospective buyers matter to the overall value of your home.
Deter Unwanted Pests in Your Home – Many pests, including cockroaches and termites, enjoy hiding in hardwood floor crevices and pockets of floor decay. Don't let your home become a welcoming haven to unwanted houseguests – get those floors refinished or repaired today!
From Hardwoods to Tufenkian Artisan Carpets, We Have It All
Serving the San Francisco South Bay Area since 1970, Van Briggle Floors is proud to be your one-stop-shop for all your flooring needs. From hardwood floors to Tufenkian artisan carpets and area rugs, we present our customers with a plethora of durable flooring options in Campbell, Los Gatos, and the surrounding communities.
If you'd like to learn more about our hardwood floor refinishing solutions, we encourage you to contact us today at 408-371-2003. Be sure to ask about our unbeatable hardwood refinishing specials when you call or stop by our spacious showroom!
Service Is Our Business, Flooring Is Our Trade Since 1970