Skip to Content
Campbell's Most Trusted Source for LVP/SPC Waterproof Flooring
SPC Waterproof flooring is a great alternative to traditional hardwood floors in high-traffic areas.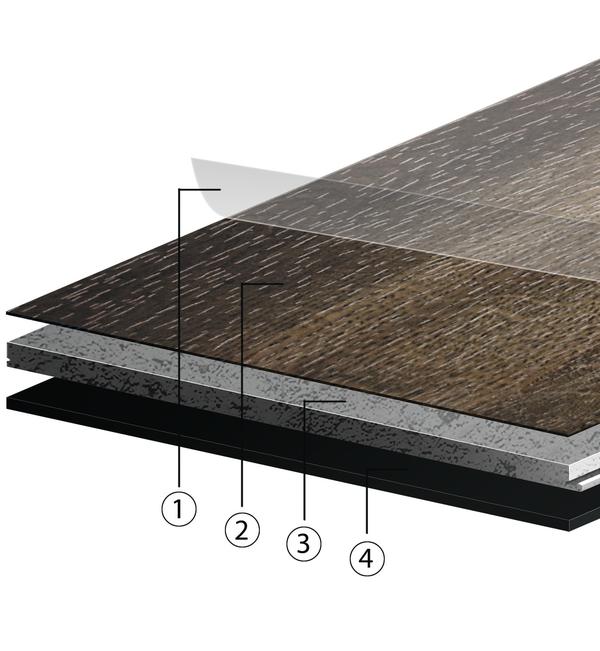 1. Quartz Enhanced Acrylic Coating. Mineral-enhanced finish provides an extreme layer of durability proven to resist shoe scuffs, kids toys and even pet claw marks!
2. Decorative Layer. Combines state-of-the-art print and emboss technology for the look and feel of natural wood. In selected collections, we offer *EIR "Embossed In Register" technology that aligns the texture and printing for a more realistic wood appearance.
3. Substrate Made with over 70% stone. GemCore™ is more stable and more dent resistant than WPC, LVT and laminate!
4. Anti-Microbial Pre-attached Backing.The pre-attached non-toxic underlayment pad makes installation fast and easy, with enhanced sound performance.
Durable solutions for high-traffic areas
Hardwood flooring is one of the most popular choices out there for home renovation projects. Many people opt to replace every square inch of carpet, tile, laminate, and vinyl with warm, rich wood. The end result may look amazing, but hardwood flooring has one major weakness: water. For high-traffic areas like your kitchen or bathroom, you need strong, durable flooring that protects against water damage without sacrificing aesthetic appeal. Fortunately, Van Briggle Floors has the perfect solution! Stone Plastic Composite (SPC) is a waterproof flooring option that comes in a variety of wood and tile finishes. Now you can achieve the homey wood look you've always wanted without having to worry about water damage.
Benefits of SPC flooring
Waterproof flooring is fast becoming one of the best alternatives to traditional hardwood and tile, which is why Van Briggle Floors is proud to offer high-quality SPC flooring. Here are just a few reasons why you should seriously consider adding waterproof flooring to your next home renovation project!
Waterproof
If you've ever had a child spill an entire gallon of milk in the kitchen or dealt with a flooded basement, then you can appreciate the appeal of waterproof flooring. SPC flooring from Van Briggle Floors is 100% waterproof and can easily be installed in kitchens, bathrooms, basements, kids' rooms, and laundry areas.
Durability
SPC flooring has a rigid core layer that's made up of 70% crushed stone. This makes it incredibly durable, resistant to scratching or denting from heavy items or furniture, and less susceptible to expansion in cases of extreme temperature change.
Easy to clean and maintain
Hardwood floors often require special care to protect the surface and need to be refinished every now and then to remove dents and scratches. SPC flooring, on the other hand, is easily maintained with regular sweeping and mopping, and never needs refinishing.
Appearance
Waterproof flooring from Van Briggle Floors comes in a variety of wood and tile finishes, so you can choose the look and texture that matches your style preferences.
Affordability
If you want a hardwood flooring option without the hefty price tag, then SPC waterproof flooring is a great choice. Budget-friendly SPC flooring has a number of options and features to choose from, so you're sure to find a price range that suits your needs.
Professional installations and high-quality services
Only the best will do for your flooring project, so it makes sense to work with the exceptional team at Van Briggle Floors. We take a great deal of pride in the quality of our work and the experience of our professional installation technicians. Van Briggle Floors has been serving the San Francisco Bay Area for almost 50 years, so you can count on us to help you find a waterproof flooring option that fits your style and budget. Give us a call to find out more information or visit our showroom today!
Contact Us today for more information on waterproof flooring!